Bisphenol A (BPA) is a chemical of concern found in polycarbonate consumer products such as plastic food and beverage containers, as well as in a wide variety of epoxy resin applications, including the inner coatings of cans, jar caps, and water pipes; dental materials; and thermal paper. BPA safety studies have linked this known endocrine disruptor to numerous adverse health effects, ranging from diabetes, heart disease, and reproductive and developmental
problems to breast and prostate cancers. Regulations continue to evolve in response to mounting scientific and consumer concern about the potential
impact of BPA on public health and the environment.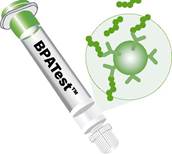 BPATest Columns
BPATest™ pairs immunoaffinity chromatography with liquid chromatography (HPLC, UPLC) combined with fluoresence  or mass spectrometry detectors to accurately, precisely and reliably detect and measure sub-ppb levels of BPA in complex matrices.  The proprietary monoclonal antibody in VICAM's immunoaffinity columns efficiently transforms test samples into highly concentrated, ultra-clean BPA extract.